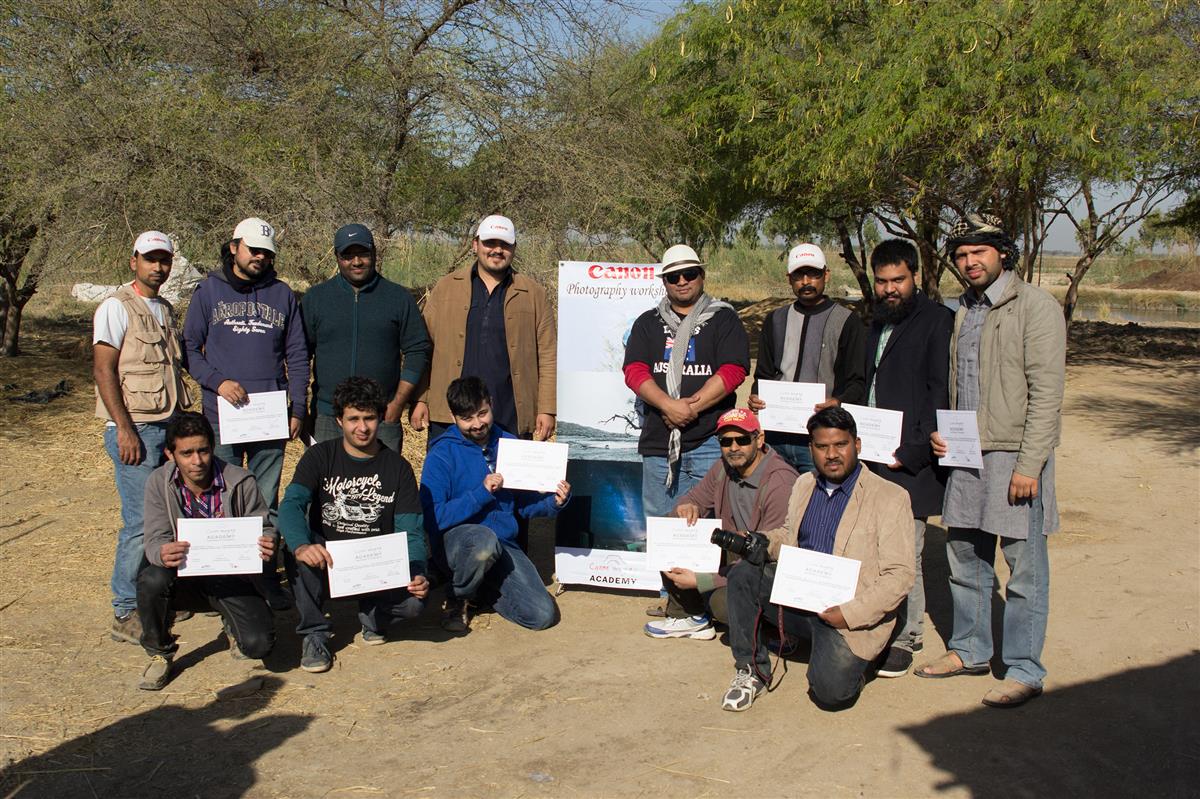 [Event] Canon Workshop on Wildlife, StarGazing & Lansdcapes at MirPur Sakro, Sindh
Instructor at the workshop arranged by Canon Pakistan on Wildlife, StarGazing & Lansdcapes at MirPur Sakro, Sindh, Pakistan.
It was yet another great day in my photography career. Conducting a workshop is always fun and a huge responsibility because you have the burden to be fair with the post and delivery as much as possible to your students and make them learn the most. MirPur Sakro was decided to conduct this workshop because we were informed by Mr. Hanif Bhatti (Founder Pakwheels.com) that he has seen a lot of breeds at his place there. We geared up to it and decided to go for it on 1st and 2nd of Feb 2014 but was postponed to 15th and 16th. Sadly Mr. Hanif Bhatti couldn't join us due to his health conditions on the day of workshop.
The team and students gathered at Toyota Eastern Motors at 8:30 and after having our breakfast we left at 10 am to MirPur Sakro in the interior Sindh. Reached there near about 3 after lunch, and without wasting any time gave away the instruction of how to capture the wildlife. I was accompanied by Muhammad Junaid and Rizwan Bhiriya as instructors as well. Luckily this was the 1st batch of mine in which every student knew how to handle his dslr and knew the basics of photography so it dint take long to make them understand some important tips. We spent whole day shooting the birds (not with guns but with the cameras), and ended up capturing the sunset at the lake side. It was sad to see a Painted Stork which many of us managed to capture was shot dead by the locals in search of food. I was happy to see it flying high and started capturing it but it broke our hearts when heard the shot and it fell down. Strongly condemn this act, in my opinion Hunting should be banned in every place of earth in order to let these creatures live.
As it got dark, thankfully one of our student Ali Paracha had brought a steel wool and the equipment which resulted in us doing Steel Wool Photography, and I just love it.. There was so much to capture, we had planned to capture Star Trails and Milkyways, but as the program got postponed sadly we got a huge moon (16th day) lighting up the sky so bright that it was not possible to get the milkyways, but yet some of us managed to capture the star trails by the end of the night. The moon rise was so charming that all of us started using our brains and captured some amazing silhouette shot in the moon light. After that we planned to take some rest, and did our dinner by 9:30pm. It was a cold night, what could've been better than a bonfire. Enjoying the time and moments brother Junaid gave some tips about Flash photography at night and shared his knowledge with us.
This night was long, and long enough for us to capture some amazing shots. by 2am some more members (Irfan, Malik Umair and Malik Ahtesham) of The Canon Gang joined us and then it was a non stop laughter time. What a wonderful time it was capturing the steel wool at the lake side when I accidentally threw the steel wool cable into the lake, but thankfully brother Irfan came to the rescue and  offered me his million $ coil and that saved us :D . We were later joined by the main organizer of the even and the member of The Canon Gang  Mr. Furqan Mossani along with Tariq A.K (a well known in wedding photography) by 4:30 am almost. It started getting better and better and am sure each and every participant enjoyed our company and they came to know that when WE (The Canon Gang) are together, we can rock the grounds at any place :) . There were some issues with the arrangements but thankfully all of our participants cooperated with us.
Most of the people (beside participants) slept in the available cars and one of our friend used the sleeping bag of the student lol. Befor the sunrise most of us got loaded in the cars and went to the lake side which was some 2 km away to capture the sun rise. That was certainly one of the best sunrise I've ever seen. Crystal clear rising behind the lake leaving us all amazed with the beauty of the Creator. We managed to capture some more birds in the morning which were missed in the evening and amazingly got to capture a huge OWL as well. After the breakfast the certificate were being distributed amongst the participants and we all loaded into our cars to get back to Karachi. Alhamdulillah we ended up our trip by 12pm on 16th.
I am thankful to all the great people who joined this workshop and managed to capture the most in 1 days that others take months. It had everything, birds, landscapes, star trails, moon, sunsets, sunrise, steel whool, flash photography and unlimited fun and laughter. I am thankful to all my brothers of  The Canon Gang for their presence. Aadil Jadoon, Hanif Bhatti, Muhammad Ahmed, Yousaf Fayyaz, Kashif Ghazi and many others were badly missed in this trips.
The images can be seen in the Travel & BTS section of the albums  ( Ablums —> Travel, BTS and Others —> Canon Workshop – Wildlife-StarGazing-Landscape ) or can bee seen in this blog!
Regards,
Israr Shah.
Comments
comments